About us
Allied Storage Tanks Limited is centrally located 5 minutes from junction 10 of M6.  Located in a 120,000 sq ft premises, our factory has 14 overhead cranes ranging from 5 to 75 tonnes. Our professional staff have 150 combined years of welding and tank fabrication experience. Our customers include a variety of global companies and are leaders in the chemical, fuel and water industries, amongst others.
Our experienced and fully trained site team can help if your tank application is too large to be moved by road.
Working with Allied means you can rest easy, knowing that all of the details are covered, your project will be made with the utmost focus on quality and will be delivered on time. We are happy to provide seamless engineering services to make the whole process as smooth and efficient as possible.
Our design and manufacturing approach means we give you the ability to select from a number of components and design alternatives that give the right equipment and vessels for your job and the most cost-effective choice for your application.
We actively manage your custom tank projects from conception through to completion to ensure that it meets – or exceeds – your standards and is delivered on schedule.  We work hard to keep you informed every step of the way.
Contact Carl Powers or Phil Doughty to get started today with our superior fabricated products and services.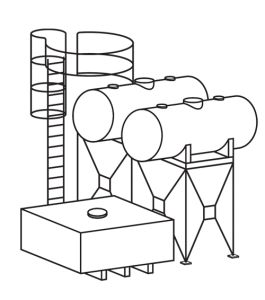 Allied Storage Tanks Ltd Stainless steel tanks and Launders are approved under regulation 31 of the Water Supply (Water Quality) Regulations 2000 and are included in the List of Approved Products for use in Public Water Supply in the United Kingdom